Rose Ann Andom-Optic Atrophy-(American)-Posted on Feb.16th, 2016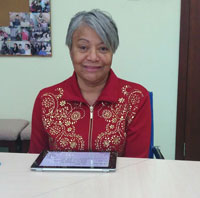 Name: Rose Ann Andom
Sex: Female
Nationality: American
Age: 65 years old
Diagnosis: 1. Optic Atrophy 2. Chronic Nasosinusitis
Date of Admission: 2016-1-4
Treatment hospital/period: Wu Medical Center/22 days
Before treatment:
17 years ago, in the ophthalmology she was found that her corrected vision cannot be improved by glasses. She was diagnosed with optic atrophy but untreated. Her vision declines gradually. 2 years ago, her vision declines obviously and she had photophobia. 1 year ago, she had autologous stem cells injection in Florida but vision did not improve. Her vision became worse and worse now her vision was 20/400. She was not able to see objects clear, she could only see the outline and color. She wanted a better life, so she came to our center.
Her spirit was better, her weight was normal. She had normal sleep and diet. Her urination and defecation were normal.
Admission PE:
Bp: 122/85mmHg; Hr: 71/min. Br: 18/min. Body temperature: 36.3 degree. Height: 160cm, weight: 70 Kg. Her nutrition status was normal. There was no yellow stains, petechial or bruise on skin and mucosa. The bony thorax was symmetrical. The respiratory sounds in both lungs were clear, with no obvious rales. The rhythm of her heartbeat was normal, with no obvious murmur. Her abdomen was soft and flat, there was no mass. The liver and spleen were normal.
Nervous System Examination:
Patient was alert, mental status was good, the memory ability, orientation ability and calculation ability were normal. Both pupils were equal in size, the diameter
was 2.0mms, she was sensitive to direct and indirect light reflex light. Her vision field was normal, she had blurred vision. It was difficult for her to differentiate the similar colors. Visual acuity test (3-meter visual acuity test chart): both eyes vision: 0.06. Visual acuity test (1.5-meter visual acuity test chart): uncorrected vision: 0.1, corrected vision: 0.15. Left uncorrected vision: 0.12, right uncorrected vision: 0.06. Visual acuity: 5%. Left eye: fundus' color was light yellow and white, the optic papilla was pale, the border was not clear, there was scar in the macular area. Right eye: fundus' color was light yellow, the A/V: 1:4, there was yellow microthromb in fundus, there was exudation around. The optic papilla was pale and deopsical. Both eyes were flexible to move, there was no obvious nystagmus. She had high intraocular pressure. The forehead wrinkle pattern was symmetrical. The bilateral nasolabial sulcus was equal in depth, she felt pressing pain around her left eye, there was no teeth deflection. The tongue was at the middle position. Her neck could move freely, the muscle tone of 4 limbs were basically normal, muscle power of 4 limbs was 5 degree. The abdomen reflex was normal, the tendon reflex was normal, the pathologic reflex was positive. The deep and superficial sensation were normal, patient could finish coordinate movement as normal.
Treatment:
After her admission, patient had complete detail body examinations, doctors confirm the diagnosis as: 1. Optic Atrophy 2. Nasal Sinuitis. She he received 4 times of neural stem cell injection and 4 times of mesenchymal stem cell injection to repair the optic nerves and retina, regenerate normal cells, nourish the neurons, improve the blood circulation, she also received the rehabilitation training.
Post-treatment:
After the 3 weeks' treatment, her vision was better. Visual acuity test (3-meter visual acuity test chart): uncorrected vision: 0.1. had 15% improvement. Visual acuity test (1.5-meter visual acuity test chart): uncorrected vision: 0.25, had 30% improvement, left: 0.15, had 8% improvement, right: 0.12. had 23% improvement. The color of fundus was turn from light yellow to red, the sediment was less, blood transportation was better, AV: 1:3. Right eye: no microthrombus, no exudation, the color of optic papilla was better.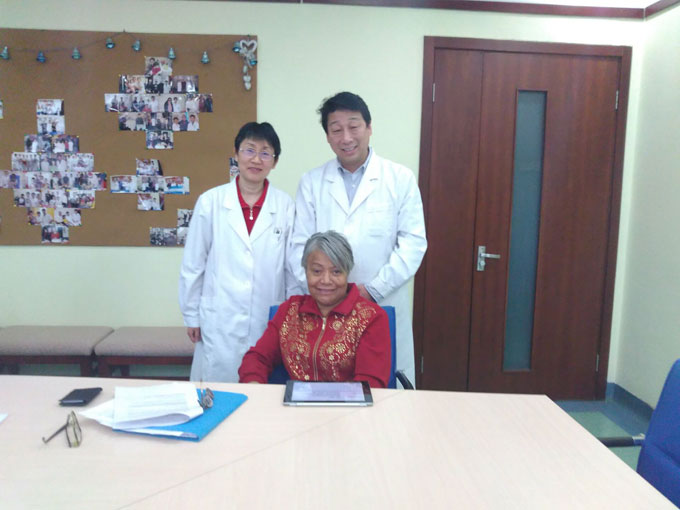 (Download the Windows Media Player Firefox Plugin if you are using Firefox browser.
To know more,Please read Using the Windows Media Player plugin with Firefox.)