Cristina Rios Barragan-Retinopathy of Prematurity-(Mexico)-Update on July 7th, 2016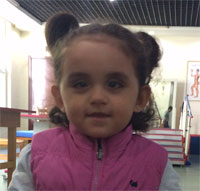 Name: Cristina Rios Barragan
Sex: Female
Nationality: Mexican
Age: 2
Diagnosis: Retinopathy of prematurity level 5
Date of Admission: April 3rd, 2016
Treatment hospital/period: Wu Medical Center/23 days
Before treatment:
Cristina was born prematurely at 30 weeks. She had to stay in the intensive care unit for 2 months, and was released from the hospital in good condition. When Cristina was 4-5 months old, she completely lost her eyesight. Her parents took her to their local hospital where she was diagnosed with retinopathy of prematurity. Two months later, she was taken to Chile where she was examined under anesthesia. She was diagnosed with retinopathy of prematurity level 5. In September 2014, she had the corneal limbus synechiolysis and ectoretina membrane removed from both eyes. She had the surgery again 3-6 months later. She also was given a phacectomy but her vision did not improve. She has corneal opacity now, and can only feel the light but she is not able to see anything.
Cristina was in good spirits but she had no appetite. Her sleeping patterns were normal. The urination routine was normal. She had bowel movements once in two days.
Admission PE:
Body temperature: 36.3 degrees. Bp: 85/60mmHg. Hr: 94/min. Br: 24/min. Height: 87cms, weight: 13kgs. Cristina's nutritional intake and physical development were normal. The skin and mucosa were normal with no yellow stains or petechia. The thorax was symmetrical. The respiratory sounds in both lungs were clear, with no dry or moist rales. The heart sounds were strong and the cardiac rate was normal, with no obvious murmur in the valves. The abdomen was soft and flat, with no masses. The liver and spleen were normal.
Nervous System Examination:
Cristina Rios Barragan was alert, she spoke clearly, but she seldom took the initiative to speak first. She was able to answer a few words when someone asked. She was not able to cooperate with the memory, calculation ability or orientation examinations. Both corneas were greyish-white and turbid. Her pupils were covered so the doctor was not able to examine her pupils. She didn't have vision or a visual field. The forehead wrinkle pattern was symmetrical. The bilateral nasolabial sulcus were equal in depth. Cristina could swallow normally. Her hearing was normal. She was able to move her neck and all four limbs well. She required some assistance when she walked. She did poorly with the muscle power examinations. The muscle tension of all four limbs was normal. Cristina had problems with her balance when she walked. The tendon reflex and abdominal reflexes were normal. The pathological sign was negative. Cristina wasn't able to cooperate with the examination of the senses or the coordinated movement examination. The meningeal irritation sign was negative.
Treatment:
Cristina was diagnosed with retinopathy of prematurity level 5, so she received 4 neural stem cell injections and 4 mesenchymal stem cell injections to regenerate a new retina and optic nerves, activate the stem cells in her body, nourish the neurons, improve the blood circulation, and repair the damaged nerves. She also had physical rehabilitation training.
Post-treatment:
After 23 days of treatment, Cristina was able to learn better, she had more initiative with her language, her vision had improved, she was able to follow and avoid the darker light. She reacted to some big objects with bright colours.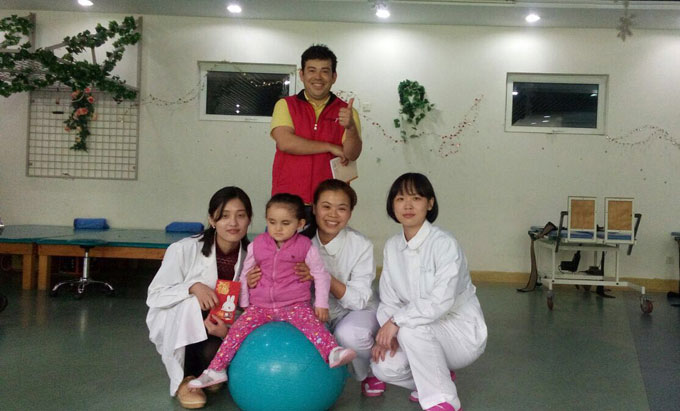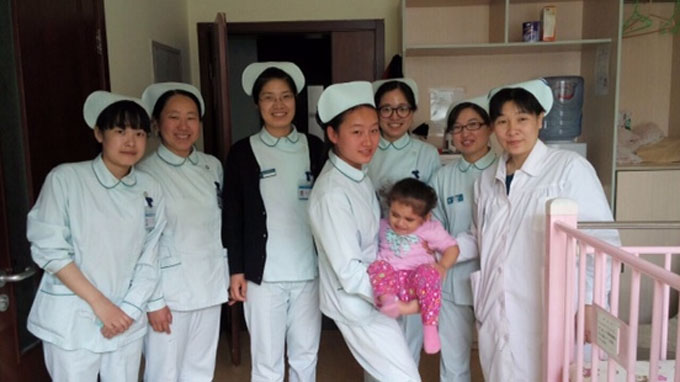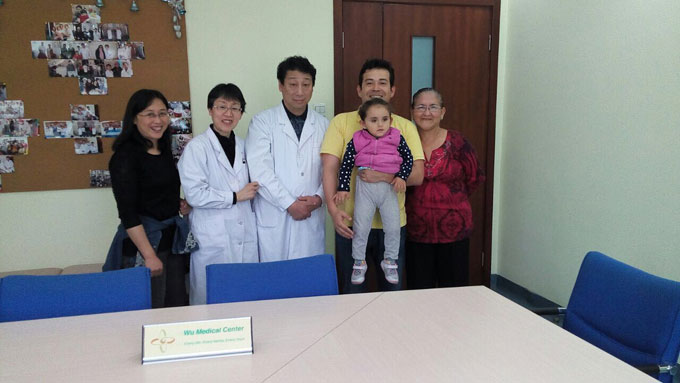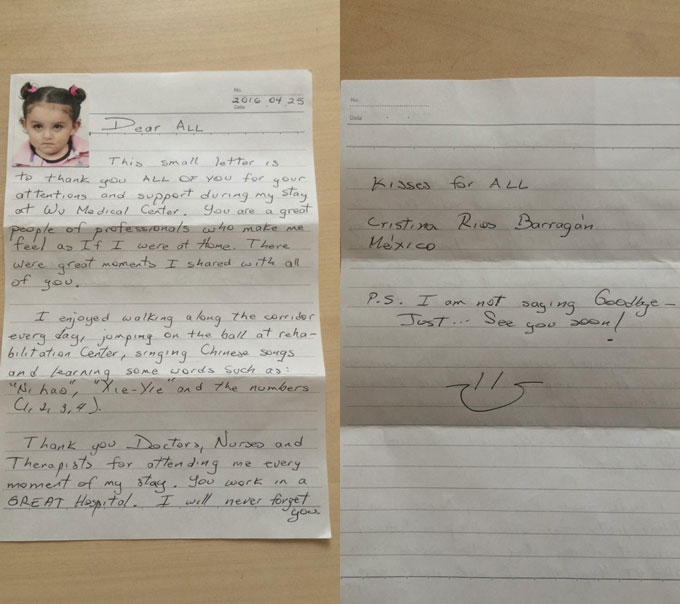 E-mails:
Date:2016-5-23
Dear Dr. Liu,
Date:2016-6-23
Dear Dr. Liu,
I hope you are ok at this time.
I want to say to you that Cristina is growing very fast and healthy.
Her medical examinations are the same as last month:
Average blood pressure: 100 / 60 mmHg
Average temperature: 36.5°
Heart rate average: 84 beats/minute
The next month (July 27th, 2016) we will go to Mexico City in order to make an ocular ecography to Cristina and send to you the results.
Cristina walks without any assitance along our house, sings, talk many words and phrases, jump and play with many toys.
Stem cells are working very well on her.
Thank you very much for all your support.
We hope to come back to China for a second treatment next year.
Kind Regards,
Victor Rios

Here you have all medical exams of Cristina after 1 month of being discharged of Hospital.
Average blood pressure: 100 / 60 mmHg
Average temperature: 36.5°
Heart rate average: 84 beats/minute
All the exams are attached.

At this time, Cristina is very good. She is taking everyday her physical therapy. She now can walk without assisstance, she walks alone in the house very well. She sings songs in spanish and chinese. She speaks better and more fluently. Stem cells are working very well on her.

Thank you for all your support and attention.

Victor Rios