Yi Han-Spinocerebellar Ataxia-(China)-Posted on Jan.14th, 2016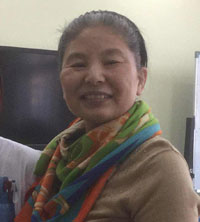 Name: Yi Han
Sex: Female
Nationality: China
Age: 57 years
Diagnosis: Spinocerebellar Ataxia
Date of Admission: November 26, 2015
Treatment hospital/period: Wu Medical Center/14 days
Before treatment:
Seven years ago, the patient appeared unstable walk with no obvious incentives. She got genetic test in 2009, she was diagnosed as "spinocerebellar ataxia", the symptoms progressed slowly and worsened gradually. She appeared diplopia; impaired vision and occasional dizziness in 2011. Her condition was aggravated obvious in 2012, she felt body stiffness, she could not wear high heels, and fell down during walking from time to time. In 2014 she had dysphagia, occasionally bucking and hiccup, she felt hard to speak, tired easily, and the taste was slightly degraded, while her hands' flexibility of activity decreased, shook and dysgraphia. She walked bad, always fell off. The third and fourth toes were broken and second one cracked result from falling off in 2014. In 2015, it was more serious for her to walk normal and stand, when she stand, her legs shook badly. She had incontinence of urine, sometimes she was not able to control her urine at all. Currently she had bilateral lower limbs balance disorders, walking gait abnormality, step base width, dizziness and diplopia from time to time, and difficulty swallowing. she wanted to have a better treatment, so she came to our hospital.
She was in good spirit. Her food consumption was slightly reduced. She slept 5 hours per day. She defecated 3 times a day, urinary incontinence sometimes. Her weight was stable.
Admission PE:
Bp: 125/81mmHg; Hr: 65/min, Temperature: 36.3. She was in good nutrition and normal figure. The skin and mucosa were normal with no yellow stains or petechia. The thorax was symmetrical. The respiratory sounds in both lungs were clear, with no dry or moist rales. The heart sound was strong. The cardiac rhythm was regular, with no obvious murmur in the valves. The abdomen was flat and soft, with no masses or tenderness. The liver and spleen were normal. There was no edema in both lower limbs.
Nervous System Examination:
Yi Han was alert and fluent in languages, her memory, calculation and coordination were normal. Both pupils were equal in size and round, the diameter was 3.0mm. Both pupils were sensitive to light stimulus, with no nystagmus obvious. Her sight and vision field were normal. It was difficult when she looked up, sometimes diplopia discontinuous. The forehead wrinkle pattern was symmetrical. The tongue was in the center of oral cavity, there was no teeth deflection. She could raise the soft palate strongly. the uvula was in the center of pharyngeal. Her hearing was a little bit poor. She could turn neck and shrug her shoulders strongly. The muscle power of upper limbs was at level 5-. The muscle power of lower limbs was at level 4-. The muscle tension of four limbs was normal. The tendon reflex of four limbs was weakness. Bilateral pathological was negative. The deep sensation of bilateral knee joints and below disappeared. Both side finger-to-nose test and rapid rotation test were clumsily done, the left side was poor. Both side heel-knee-tibia test was clumsily done, but not stably or exactly. The Rombergs sign was positive. She couldn't stand on one foot. Her step base was slightly wide and gait was unstable during walking, her body shook obviously. The Meningeal irritation sign was negative. Accessory examination: Genetic test (May,2009 China-Japan Friendship Hospital): Existing SCA genetic abnormality, support Spinocerebellar Ataxias; Electrocardiogram (November 30, 2015 Wu Medical Center): Sinus rhythm, mild right axis deviationt, normal electrocardiogram.
Treatment:
After admission, Yi Han was diagnosed as Spinocerebellar Ataxia. She received treatment to start nerve repair and nerve regeneration, activate the stem cells in her body, adjust immunity, improve blood circulation, nourish the neurons and this was accompanied with neurological rehabilitation.
Post-treatment:
After two weeks treatment, her condition improved, dizziness was better, blurred vision improved, difficulties swallowing and looking up of eyes alleviated, speech was fluent, fatigue feeling of whole body alleviated, flexibility ratio of hands increased, her knees were normal flexible, she could sit up and stand(5 minutes while open eyes and 4 minutes while close eyes) by herself. Her walking function of lower limbs improved, her equilibrium sense was better, ataxic gait reduced, she stand stable and had less legs shakes. The deep sensation of bilateral knee joints and below recovered partly, her urinary incontinence disappeared. She had defecation once a day, she could take care of her basically.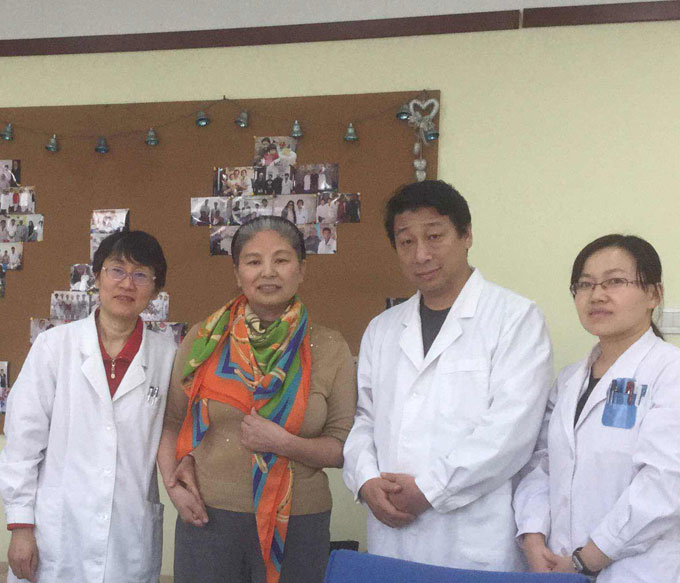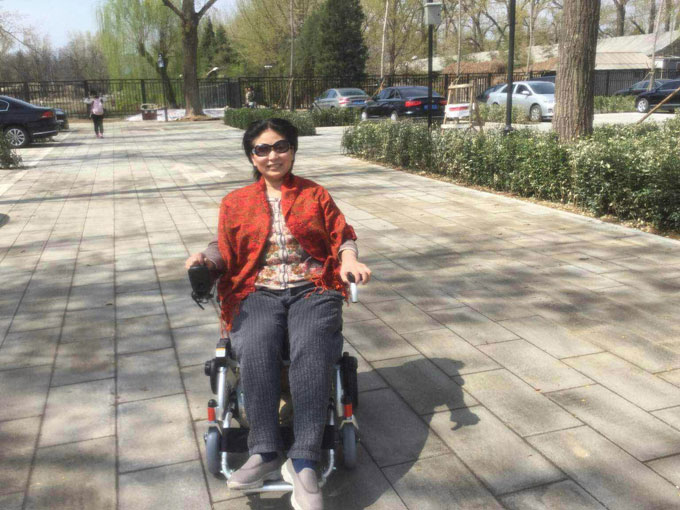 Before treatment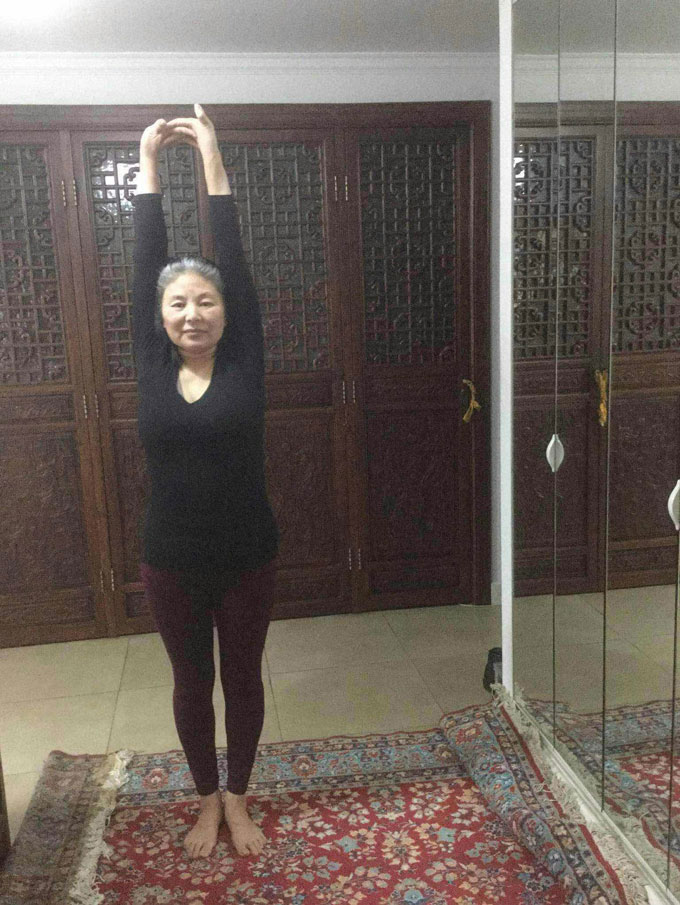 After treatment
E-mails:
Date:2016-1-5
王医生:
新年好。
1、发送我的化验结果4张,请查收。
2、这周血压、心率未发现异常,大小便正常。
3、精神还好,有时还会觉得有点容易累,不大有食欲。
4、走路有进步,但有些缓慢,总还是一脚深一脚浅,时间多一点就走成"之"字。。。抬脚、上台阶还是不行。。。
5、另外,是我遇精力集中容易抖动,需要做个脑电图吗?
6、我复查时,我的对口医院,让我做个核磁,看看小脑萎缩情况,我约在1-27日。。。
7、其它一切正常,深蹲、仰卧起坐可做20个以上,在小区散步已经可以2-3圈,气息、站桩练习半小时、古琴2小时,有时会练习一点抛接球,综合站立、反映、眼睛和手,比较难,还是有些目眩。。。。,睡觉时间7-8小时。。。。所有时间都是相互交替的,一项活动的集中时间不超过5-7分钟(散步除外),你看是不是属于精神上有点静不下来?。。。
祝好!
王医生:
我补充一点感受,我觉得身体体质好像增强了,但晃动、目眩、稳定、准确性方面的进步还有点缓慢,不过不必有人寸步不离的关照了,难得的是我感到从头到脚的控制力贯通了。。。
Translation:
Dear Dr. Wang,
Happy New Year to you! And I would like to discuss my current health status with you as follows:
1.Attached, please find the four results of my medical examination.
2.This week, my blood pressure, heart rate and bowel movements remain normal, with no problems urinating.
3.I am in good spirits now, although I still get tired easily and my appetite isn't always good.
4.I can walk better than before, but I still walk slowly and sometimes I lose my balance and fall because I'm still unstable. When I walk a slightly longer distance, I have an ataxic gait that resembles the Chinese character "Zhi." Besides, I can't lift my feet and walk up stairs.
5.When I'm confronted with matters requiring intensive attention, I always tend to shake. When this happens, do I need to have an electroencephalogram (EEG)?
6.When re-examined at my designated hospital, the doctor suggested that I have an MRI taken to check my cerebellar atrophy, and the MRI was scheduled for Jan. 27, 2016.
7.All my other aspects are normal. I can do more than 20 full-squats and sit-ups each time, walk 2-3 circles around my residential community, exercise half an hour breathing and standing in the manner of the traditional Chinese Kongfu, play the Chinese zither for 2 hours, and occasionally do exercise by throwing and catching a ball. But I still have difficulty with standing normally, reacting, as well as with activities requiring hand to eye coordination. My dizziness still persists. I can sleep 7-8 hours per day. All the activities are consecutive, with no overlap. And each activity (excluding walking) lasts less than 5-7 minutes. So, can you let me know if I am currently mentally unquiet?
One more point: my body is getting stronger while the improvement with my shaking, dizziness, stability and accuracy is still very slow. However, I no longer need others' eye-to-eye care, and I can now control my body movements from my head to my toes.
Best Regards,
Yi Han