Megawati Theresia. Ny-Spinocerebellar Ataxia-(Indonesia)-Posted on April 29th, 2016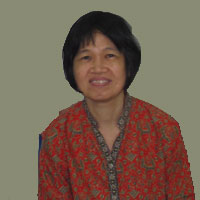 Name: Megawati Theresia. Ny
Sex: Female
Nationality: Indonesian
Age: 52
Diagnoses: 1. Spinocerebellar Ataxia 2. Acute Upper Respiratory Infection
Date of Admission: Mar.9, 2016
Treatment hospital/period: Wu Medical Center/14 days
Before treatment:
Megawati Theresia. Ny began to not be able to walk very well roughly two and half years ago, she had an abnormal gait, and after that, she was not able to speak clearly or write normally. The symptoms continued to get worse as time went on. She was not able to walk by herself about two years ago and she needed to use supplementary walking aids. She was not able to walk up and down stairs by herself either. The local hospital considered that she had suffered a stroke but Megawati was undiagnosed after some DSA and MRI examinations. She received another MRI examination in December, 2015, and the results showed she had cerebellar atrophy and bridge atrophy, so she was diagnosed with spinocerebellar ataxia. She was prescribed mulvital but her symptoms remained uncontrolled. At present, her ability to maintain balance is slowly getting worse. She had weakness in her lower limbs and was not able to stand stably. She gets tired easily. Her speaking ability is deteriorating. She has cerebral language. There is no dizziness, nausea, or drumming noise in the ears.
Megawati has been feeling depressed since the symptoms first appeared. She did not have a good appetite. She always feels satiated after she eats food. She sleeps six hours every night. The urination routine and bowel movements were normal. Megawati has lost 10kg since the onset of the disease.
Admission PE:
Bp: 100/80mmHg; Hr: 60/min, Temperature: 36.5 degrees. Height: 163cms, weight: 54kg. Nutritional intake was bad. There were no yellow stains or petechia on the skin or mucosa. The thorax was symmetrical. The respiratory sounds in both lungs were clear, with no dry or moist rales. There were no pleural rales. The heart sounds were strong. The cardiac rhythm was regular, with no obvious murmur in the valves. The abdomen was flat and soft, with no masses or tenderness. Borborygmus: 4-5/min. The liver and spleen were normal. The skin temperature of the legs below the knees was lower than normal. There was no edema in either of the lower limbs.
Nervous System Examination:
Megawati Theresia. Ny was alert. She has a speech disorder and cerebellar language. Her memory, calculation ability and coordination were normal. Both pupils were equal in size and round, their diameter was 3.0mm. Both pupils were sensitive to light stimulus. Her eye sight and visual field were normal. There was no nystagmus. The forehead wrinkle pattern was symmetrical. The bilateral jaw muscles were symmetrical and powerful. The bilateral nasolabial sulcus was equal in depth. There was no teeth deflection. She could raise the soft palate strongly. The cheeks could be expanded normally. The tongue was centered in the oral cavity. Her hearing was normal. She could turn her neck and shrug her shoulders strongly. The muscle power of both upper limbs was at level 5, the muscle power of the left lower limb was at level 4, and the muscle power of the right lower limb was at level 4+. The muscle tension of all four limbs was normal. She had a festinating gait. The tendon reflex of all four limbs was normal. There was no abdominal reflex. The bilateral sucking reflex and Hoffmann's sign were negative. The Babinski's sign was neutral. The deep and shallow sensation was normal. The bilateral finger-to-finger test and rapid rotation test were uncoordinated. Megawati was not able to perform the finger-to-nose test or the heel-knee-tibia test very well. The Romberg's sign and eye closure examination results were positive. The meningeal irritation sign was negative.
Treatment:
After admission, Megawati Theresia Ny received the relevant examinations and was diagnosed with spinocerebellar ataxia. She was given 3 neural stem cell injections and 3 mesenchymal stem cell injections to activate the repair and regeneration of the nerves in order to supplement the number of existing nerve cells in the brain, activate stems cells in the body, regulate the immune system and improve blood circulation. Megawati was also given physical rehabilitation training. During her treatment, Megawati caught a cold and developed a fever. The highest body temperature reading was 38.9 degrees, so the blood routine was rechecked: WBC 10.7*109/L, Lymph% 10.6%, Gran% 85.4%. Megawati was diagnosed with an acute upper respiratory infection, so she received treatment to lower the body temperature, and had the infection controlled.
Post-treatment:
After the 14 day treatment was completed, Megawati's infection was controlled. The hemogram results were normal. Her appetite increased and she felt stronger. The muscle power of the lower limbs was higher. The left lower limb was at level 4+, and the right lower limb was at level 5. Her balance improved and her strides were longer when she walked.