Naufal Danang - Progressive muscular dystrophy (Indonesia) Posted on September 10, 2014
Name: Naufal Danang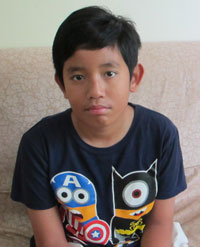 Sex: Male
Country: Indonesia
Age:13 years
Diagnosis: Progressive muscular dystrophy
Date:June 30, 2014
Days Admitted to Hospital: 21 days
Before treatment:
The patient suffered from frequently fall when he walked at age 4. The patient didn't received special treatment. Then the patient suffered from walking problems. He suffered from weakness of both lower limbs. He had difficulty with going up stairs. So the patient went to a local hospital 1 and a half years later. He was diagnosed with progressive muscular dystrophy. He received vitamin and rehabilitation training for treatment. But the disease aggravated gradually. The patient suffered from difficulty to sit-up from horizontal position at age 6. The muscle strength of his four limbs weakened gradually. He couldn't take care of himself in part.
From the onset of disease, the patient had good spirit. His diet was not good. His sleep quality was still good. His stool was dry and his weight had no obvious change. His emotion was not stable. There was no similar disease in his family members.
Admission PE:
Bp: 103/66mmHg; Hr: 78/min, temperature: 36.4degrees. Height: 157.5cm, weight: 47.5Kg. The walking gait was slightly abnormal. The Gower sign was positive. The skin and mucosa were normal, with no yellow stains or petechia. Through auscultation, the respiratory sounds in both lungs were clear, with no dry or moist rales. The heart sounds were strong, the cardiac rate was normal, with no obvious murmur in each valves. The abdomen was flat and soft. There was no pressing pain or rebound tenderness. The liver and the spleen were not enlarged. There was mild atrophy in shoulder girdles and pelvic girdle muscles. He walked slower than normal. He could stand in a stable manner.
Nervous System Examination:
Naufal Danang was alert, and his speech was fluent. His spirit was good. His memory, calculation ability and orientation were poor. Both pupils were equal in size and round, the diameter was 3.0mms. Both pupils were sensitive to light stimulus. Both eyeballs had flexible movement. Both eyes had mild horizontal nystagmus. He had slight dizziness and blurred vision when he reads a book. The forehead wrinkle pattern was symmetrical. The ability to close his eyes was strong. The bilateral nasolabial sulcus was equal in depth. The tongue was centered in the oral cavity, with no teeth deflection. There was no air leakage when he drummed his cheeks. He could raise the soft palates strongly. Bilateral tonsil was enlarged to 2 degrees. The muscle strength of the left upper limb's near-end was at level 4- and the far-end was at level 3+. The hold power of the left hand was at level 3. The muscle strength of the right upper limb's near-end was at level 3+ and far-end was at level 4. The hold power of the right hand was at level 3+. The muscle strength of the left lower limb was at level 3+. The muscle strength of the right lower limb was at level 4-. The muscle tone of his four limbs was slightly low. Left side tendon reflex was weak. Right side tendon reflex was normal. The abdominal reflexes was elicited normally. Bilateral palm jaw reflex was negative. Bilateral Hoffmman sign and Rossilimo sign were negative. Bilateral Babinski sign was negative. The deep, shallow sensation and epicritic sensation were normal through loose measure. He was able to finish the finger-to-nose test, fingers coordination movement test and the rapid rotation test. He did the heel-knee-shin test slowly for the muscle strength was weak. There were no signs of meningeal irritation.
Treatment:
We initially gave Naufal Danang a complete medical examination and he was diagnosed progressive muscular dystrophy. The patient received treatment for nerve regeneration and to activate stem cells in vivo. He received treatment to improve blood circulation in order to increase the blood supply to the damaged neurons, to nourish the nerves and muscles. He also received treatment to promote muscle fiber and nerve regeneration. This was accompanied with physical rehabilitation treatment.
Post-treatment:
The patient's condition has improved. The muscle volume has increased. At present, height: 157.5cm, weight: 50Kg. After treatment, the muscle strength of both upper limbs has increased by 1 level to reach level 4+. The hold power of both hands has increased by 1 level to reach level 4. The muscle strength of both lower limbs has increased by 1 level and reached level 4. There is no Gower sign. The patient at present, gets up and walk with ease. He can walk a longer distance.
Email :
Date: 2014-08-31
Dear Dr. Susan,
Kindly find the attachment of Naufal Danang Lab result. According to Mr. Danang, Naufal in good condition. And there was changing on his physical specially on his leg muscle and his arms muscle.

Let me know what Dr Wu said about the lab result so I can forward the information to Mr. Danang.

Thank you Dr Susan

Date:2015-5-26
Hi Dr Susan,
Here are the 3 months test results. Mr Danang writes;
With this email i submit the laboratory results of blood tests on behalf of Nawfal Fathurrahman Danang as an evaluation of the therapy that has been carried out until now. Please consult the doctor in China for our next evaluation material.
The current condition of our child is that he is generally in good health, physically there is a corresponding increase in legs muscle strength as well as his arms. Concentration in school has increased. He is currently conducting drug therapy (oral) and physical therapy.
This is our feedback and we beg for further news.
Thank you for your help.
Alamat Baru