Bugshan - Glycogen storage disease (Saudi Arabia) Posted on July 9, 2014
Name: Bugshan Salim Ali A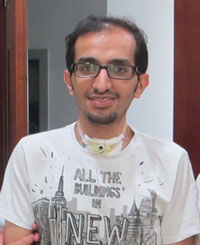 Sex: Male
Country: Saudi Arabia
Age:29 years
Diagnoses: 1.Glycogen storage disease, Post tracheotomy 2. Upper respiratory infection
Date:June 10, 2014
Days Admitted to Hospital: 13 days
Before treatment:
The patient suffered from walking difficulty 4 years ago and feels tired when he walks. The disease aggravated gradually. The patient then suffered weakness of upper limbs and spine. After muscle biopsy, he was diagnosed with Glycogen storage disease. About 1 year ago, the patient suffered from breathing difficulty, and couldn't lie lain. He received trachea cannula for breathing in August 2013. He could take care of himself or perform some daily life activities. He could eat, brush teeth and wash face independently. Both lower limbs couldn't straighten, the muscle strength of both lower limbs was weak. He could walk a few steps. He needed assistance when he was going to bed. He could turn over and sit in bed. He had breathing difficulty and needed ventilator for breathing. There was phlegm when he cough.
From the onset of disease, the patient's spirit and diet was okay. The defecation and urine was normal. One of his elder brothers died with Glycogen storage disease. There was no other genetic disorders.
Admission PE:
Bp: 128/75mmHg; Hr: 102/min. Temperature: 36.5 deg. Height: 170cm, weight: 50Kg. The mucous membrane and skin had no petechia or yellow spots. There was a trachea cannula in the center of neck. The respiratory sounds in both lungs were weak, with no dry or moist rales. Through auscultation it was determined that the heart sounds were strong, the rhythm was regular, with no murmur in the valve auscultation area. The abdomen was soft, with no pressing pain or rebound tenderness. The liver and the spleen had not enlarged. He was unable to straighten his knees and the knees presented 160 degrees. There was no deformity in both upper limbs and spine. The oxyhemoglobin saturation was fluctuating between 82~94%.
Nervous System Examination:
Bugshan Salim Ali A was alert and his speech was clear. His memory, calculation abilities and orientation were normal. Both pupils were equal in size and round. The diameter was 3.0 mms, and the pupils had normal reactions to light stimuli. Both eyeballs had normal movement. The forehead wrinkle pattern was symmetrical. The bilateral nasolabial sulcus was equal in depth. He had strong muscle to close eyes. The tongue was at the center of the oral cavity. The teeth were shown without deflection. There was no air leakage when he drummed his cheeks. He had strong and symmetrical muscle strength to lift soft palates. The muscle strength to shrug his shoulders and upper limbs' near-end was at level 4. The muscle strength of both lower limbs was at level 3. All his limbs had flexible movement. He could turn over, sit, stand or walk. He went to bed with the assistance of his upper limbs. He raises lower limbs with the help of his upper limbs. The tendon reflex of all his limbs and abdominal reflexes disappeared. The pathological character was negative. Bilateral deep sensation, shallow sensation and elaborate sensation were normal. He was unable to finish the finger-nose test, fingers coordinate movement or the rapid rotation test. He had difficulty with the heel-knee-shin test. There were no signs of meningeal irritation.
Treatment:
Bugshan Salim Ali A received all of the relevant examinations. He received treatment for muscle fiber repair and to activate stem cells in vivo. He received treatment to expand the blood vessels and nourishment for the neurons. He received treatment for nerve regeneration and also to stabilize the proper functioning of his organs. This was combined with physical rehabilitation training.
Post-treatment:
After treatment, the cough and expectoration have been alleviated obviously. There was no breathing difficulty. The oxygen saturation is fluctuating between 90~98%. The fatigable of muscle has changed. He can walk long distance.