Maali Eessa-Stroke-(America)-Posted on Mar.3rd, 2015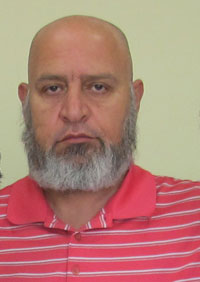 Name: Maali Eessa
Sex: Male
Country: America
Age: 53 years
Diagnosis: 1.Stroke 2. Benign prostatic hyperplasia
Date: Jan.31th, 2015
Days Admitted to Hospital: 23 days
Before treatment:
After skull CT scanning and other examinations, he was diagnosed with cerebral infarction. He woke up 3 days ago, and he had his right side hemiparalyzed and couldn't speak. After several months of medication and rehabilitation training by a local hospital, his right side movement became better and he could speak but the speech was not clear. He insisted on rehabilitation training till now. The muscle power of his right side was between levels 3-4. His right lower limb was painful. He could talk with family members in simple words. He could take care of himself sometimes. He could drive. He wanted to have a better treatment, so he came to our hospital and he was diagnosed with stroke.
He was in good spirit. His sleep, eating, urination and excrement were good. His weight was stable.
Admission PE:
Bp: 119/80mmHg; Hr: 62/min. Height: 181cm, weight: 103Kg. His body type was slightly fat. His skin and mucosa were normal with no yellow stains or petechia. The respiratory sounds of both lungs were clear with moist rales. His heart sounds were dull and the rhythm was regular. There was no obvious murmur in the valve area. His abdomen was distended. Through palpation, the liver and spleen were not enlarged. His right lower limb was slightly edematous. His skin temperature of right distal limbs was lower than left side.
Nervous System Examination:
Eessa was alert. He had mixed aphasia and his speech was unclear. His memory and orientation abilities were normal. His calculation ability was slow. Both pupils were equal in size and round, the diameter was 2.5mms, both eyeballs could move freely and the pupils reacted normally to light stimulus. There was no nystagmus in both eyes. Both forehead wrinkle patterns were equal in depth. His mouth was shifted to the left when he showed his teeth with mouth open. His tongue was deflected to the right. His neck was soft. The power to shrug the right side shoulder was weak. His muscle strength of right proximal limb was at level 4 and distal muscle strength was at level 3-. Grip strength was at level 3-. Muscle strength of his right wrist joint and ankle were at level 1. His right foot could not complete the test of dorsal flexure and extension. The muscle strength of his left limbs was at level 5. His right side muscle tension was high. Tendon reflex of right limbs was active. Right side Rossolimo sign and Babinski sign were positive. T12 above of his right side was hypalgesia. Below L1 of right side was hyperalgesia. Superficial sensation of left side was normal. The deep sensation of his right side and complex sensation declined. His right upper limb could not complete coordinated movements because of weak strength of his right lower limb. The coordinated movements of his left side was normal. There was no meningeal irritation.
Treatment:
We gave Maali Eessa a complete examination and he was diagnosed with Leber hereditary optic neuroretinopathy. He received treatment to improve the blood circulation in order to increase the blood supply to the damaged nerves and nourish the neurons. He also received rehabilitation training for eyes.
Post-treatment:
After the treatment, he can repeated and speak well. His right side upper limb muscle power was better than before. He could touch his head with right hand. Right wrist dorsiflexion movement was more flexible than before and the angle was larger. Right lower limb tendon reflex was better. The pain of his right lower limb was decreased.