Yariv Amir-Amyotrophic Lateral Sclerosis-(Israel)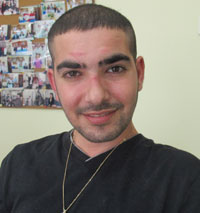 Name: Yariv Amir
Sex: Male
Nationality: Israeli
Age: 27Y
Diagnosis: Amyotrophic Lateral Sclerosis(ALS)
Before treatment:
The patient had weakness in left upper limb in 2015 year, after that all of his limbs were involved, so he went to local hospital and did EMG test, he was diagnosed with ALS, he took Riluzole 50mg twice a day, but there is no effect. His condition became worse fast, he was unable to walk, speak clear or swallow well, he also had painful and spasm in whole body, his respiration function was bad, too. He had come to our hospital 5 months ago, and his respiration function and motor function were all improved, but now his condition becomes worse again, he is unable to eat, wear, sit up, stand or walk, he is unable to speak clear.
His spirit, diet and sleep are normal. he lost 5-7 kgs.
Admission PE:
Bp: 110/80mmHg; Hr: 64/min. Br: 18/min. Body temperature: 36 degrees. His development was normal,he had good nutrition. There were no yellow stains or petechia on the skin or mucous. Pharyngeal slightly congested. The tonsil was not enlarged. The thorax was in symmetry. The movement range of thorax was reduced. The respiratory sounds in both lungs were normal with no obvious moist or dry rales. The heart sounds was strong, the rhythm of his heartbeat was normal. There was no obvious murmur in the valves. His abdomen was soft and flat. There was no pressing pain or rebound tenderness with no masses. The liver and spleen was not touched under the rib. Shifting dullness was negative. Spine physiological bending was existed. There was no edema with lower limbs.
Nervous System Examination:
Yariv Amir was alert and his spirit was good. He had dysarthrosis. He was not able to speak clearly. His memory, calculation abilities and orientation were normal. Both pupils were equal in size and round, the diameter was 3 mms. Both eyes had sensitive responses to light stimuli. Both eyeballs could move freely. There was no nystagmus. The nasolabial fold and forehead wrinkle pattern were symmetrical. His tongue was centered in the oral cavity and the tongue muscle was not atrophied. The teeth were shown without deflection. There was air leak when he below his cheek,the power of chewing was weak. Both soft palates could be raised; the muscle of his bilateral shoulder girdle,upper limbs,bilateral thenar and hypothenar,interosseus of hands were atrophied.His neck was soft,the power of shrug shoulders were weak. The proximal muscle strength of left upper limb was level 1,the distal end muscle strength was level 2-;the proximal muscle strength of right upper limb was level 1,the distal end muscle strength was level 2,it was hard for him to stretch his fingers,the grip power of right hand was level 3,the grip power of left hand was level 2,the muscle power of lower limbs were level 3-;the muscular tension of his upper limbs were normal,the muscular tension of his lower limbs were increased. The bilateral bicipital muscle reflex and radioperiosteal reflex was slightly low;The lower limbs patellar tendon reflexes and achilles jerk was hyperreflexia. Bilateral palm jaw reflection was positive,bilateral Hoffmann sign was negative,bilateral Babinski sign was positive. He could not finish the test of finger to nose,rapid rotation. The right side heel-knee-tibia test was normal,he could not finish the left side heel-knee-tibia test. The meningeal irritation sign was negative.

Treatment:
After the admission, he received related examinations and diagnosed with Amyotrophic Lateral Sclerosis. He received 3 times nerve regeneration treatment to repair his damaged nerves, replace dead nerves, nourish nerves, regulate his immune system and improve blood circulation, with rehabilitation training.
Post-treatment:
After 17 days' treatment, his neck strength is better than before, activities' range of right hand fingers increase, upper adduction strength is better, and the proximal muscle strength is increased, activities' range of double lower limbs increase, left foot dorsiflexion is better than before.