I Gede Sanjaya Dinata Kusuma-Motor Neuron Disease-(Indonesia)-Posted on March.30th, 2017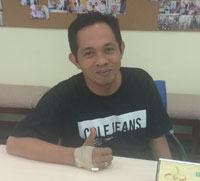 Name: I Gede Sanjaya Dinata Kusuma
Sex: Male
Nationality: Indonesian
Age: 52Y
Diagnoses: 1.Motor Neuron Disease 2.Sinus Bradycardia 3. Hypothyroidism
Date of Admission: November 12th, 2016
Treatment hospital/period: Wu Medical Center/15days
Before treatment:
I Gede felt limb weakness 2 years ago. He didn't know why. His exercise tolerance became worse and he also had paroxysmal fasciculation, so he went to local hospital and had MRI and EMG scans 10 months ago. He was diagnosed with motor neurone disease. He had spasmodic pain in the lower limbs that especially hurt in morning. 6 months ago, the doctor prescribed Mecobalamin and Astaxanthin, but he didn't have any improvement. His disease became worse and his lower limbs were weak. He was able to walk, turn over and sit up by himself and he could take care of himself. He was unable to move his upper limbs well and wanted a better life so he came to our hospital and was diagnosed with motor neurone disease.
His spirit, sleep, diet, bowel and bladder actions are all good.
Admission PE:
Bp: 125/85mmHg; Hr: 62/min. Br: 18/min. Temperature: 36 degrees. Body temperature: 36.3 degrees. Height:168cm,weight:66Kg. He had normal nutrition and development. There were no yellow stains or petechia on the skin or mucous. No lip cyanosis. There was no pharyngeal congestion. His bony thorax was symmetrical. The respiratory sounds in both lungs were clear, with no dry or moist rales. There was no swelling in the precordium. The rhythm of the heartbeat was normal. There was no obvious murmur in the valves. The abdomen was soft with no pressing pain or rebound tenderness. The liver and spleen were normal. Shifting dullness was negative. Spine physiological bending exists. There was no edema in both lower limbs.
Nervous System Examination:
I Gede Sanjaya Dinata Kusuma was alert and his spirit was good. His speech was clear. His memory, calculation abilities and orientation were normal. Both pupils were equal in size and round, the diameter was 3 mms. Both eyes had sensitive responses to light stimuli. Both eyeballs could move freely. There was no nystagmus. The nasolabial fold and forehead wrinkle pattern were symmetrical. His tongue was in the center when the tongue was extended. There was no tooth or mouth deflection. His tongue could push against the cheek in a powerful manner and he could do cheek blowing well. He chewed in a strong manner and both soft palates could be raised well. His neck was soft. He could close his eyes,turn his neck and shrug shoulders strongly. There was obvious muscle atrophy,the gripping power of the left hand was level 4-,the gripping power of the right hand was level 4,abduction and adduction muscle strength of the left arm was level 3,extensor muscle strength was level 3+,abduction and adduction muscle strength of right arm was level 3+. Extensor muscle strength was level 4. The muscle power of both legs was level 4+. The muscular tensions of all four limbs was normal. Tendon reflexes were impaired, bilateral Babinski sign was negative. Finger-to-nose test, rapid rotation test, finger-to-finger test and heel-knee-tibia test were normal. The meningeal irritation sign was negative.
Treatment:
He was diagnosed with Motor Neurone Disease. He received 3 neural stem cell injections and 3 mesenchymal stem cell injections to repair his damaged motor nerves, replace dead nerves with new injected stem cells, improve circulation, nourish neurons and regulate his immune system. He also received non-invasive ventilator treatment for breathing. We gave him daily physical rehabilitation training and treatment to improve thyroid function.
Post-treatment:
After 15 days of treatment, his fasciculation was reduced, his physical and mental condition were improved and he felt more powerful in his limbs. His gripping power of both hands were increased to level 5- and the muscle power of his arms were also increased. The abduction muscle strength of the left arm was increased to level 4- the adduction muscle power was increased to level 4-,the extensor muscle power was increased to level 4+. The abduction and adduction muscle power of his right arm was increased to level 4,the extensor muscle power was increased to level 4+.